Engaging Virtual Meetings Academy
It started as a challenge to bring gamification to a Zoom only virtual conference. It resulted in a fully gamified academy.
In April or May of 2022, John Chen approached Flying Cloud Solutions about bringing gamification to the upcoming Virtual Engaging Meetings Conference 3.0. We had worked together the previous year on Training Magazine Networks virtual conferences: Training and TechLearn 2021 and Flying Cloud Solutions developed a gamification system for supporting TechLearn that drove an engagement economy. The success of the second event proved the power of a true gamification strategy for virtual events.
The challenge, however was to develop something that could run with Zoom. The problem of this initial concept, however, is that a gamification solution for the virtual event should complement the event and not overwhelm it. Virtual conferences invite many speakers on various topics, delivering in their own way, and imposing a game system within the presentation space is a bit intrusive. More importantly, tracking participants during a session or across sessions would prove to be an even bigger challenge as data would require a lot of manual effort. Also, after some research, while Zoom's API is open for developers, there is a large learning curve to overcome to try and develop a custom solution in this space.
The shift in mindset moved to supporting the conference through a separate platform such as the App created for TechLearn 2021. But, once we moved into the realm of managing the gamification system in a separate platform, it was a quick leap to ask the question as to why we should develop a system that is bound by the conference. The decision was made to develop a lasting gamification system that would not only support the conference, but any future Engaging Virtual Meetings event, support pathways of learning and certification, support social experiences such as Engaging Virtual Happy Hour and Karaoke, and shift the marketplace for Engaging Virtual Meetings to a space where the developed engagement economy could be used to purchase tangible items or register for these learning events. Thus Engaging Virtual Meetings Academy was born!
When did we arrive at this concept of a full academy?
Around the end of July to early August… The event would be October 18th – 22nd.
What was the budget?
Spend as little money as possible. Any revenue for Flying Cloud Solutions and Engaging Virtual Meetings would have to come following the event.
Key Objectives:
Increase overall engagement of attendees at and between Engaging Virtual Meetings events.
Grow enrollment in Engaging Virtual Meetings events by 30% in the next year.
Transition conference VIP purchases into an annual membership model and grow VIP purchases by 30% annually.
Identify future thought leaders and topics for future Engaging Virtual Meetings events.
The Solution
Engaging Virtual Meetings currently exists on a WordPress infrastructure, using WooCommerce and Eventbrite to promote events as well as YouTube, Zoom, and other services. Investigating WordPress as the solution, we were happy to find that there were several existing plugins that could be utilized together to develop the learning/event management system that we had envisioned. Better yet, the four main plugins had already been tested together and had active APIs to take advantage of each plugin's features.
To Manage Learning and Events: LearnDash allows for typical learning management system (LMS) functions within the WordPress environment and is flexible for many different learning and development structures. Learning products can be created and simple survey/quiz components can be utilized within this platform.
To Manage Social Networking: BuddyBoss integrates with WordPress to create standard Web 2.0 interactions, allowing members to create a profile, connect with others, and develop social groups. BuddyBoss also directly integrates with LearnDash to increase the capabilities of learning groups tied to events, opening them up with many social networking features and functions.
To Manage the Marketplace: WooCommerce was already being utilized for Engaging Virtual Meetings and integrates well with LearnDash to sell products.
To Manage Gamification: We were happy to find GamiPress as a gamification plugin to WordPress that already integrated directly with the aforementioned plugins. At its base, GamiPress is fairly basic, but the library of extensions that an annual subscription allows for is robust and extends the gamification features with a ton of great mechanics that can be systematically pulled together to drive a robust experience.
Engaging Virtual Meetings Academy Framework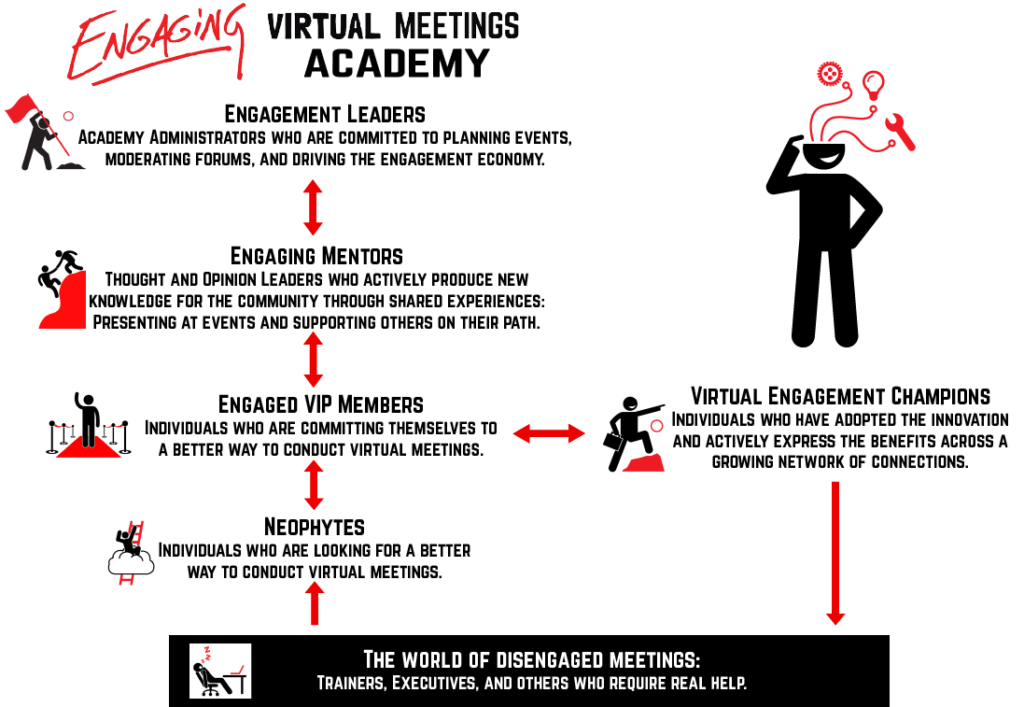 The framework for the Engaging Virtual Meetings Academy (EVMA) is based on the combination of two principles: Communities of Practice (Wenger 1998) and Diffusion of Innovations (Rogers 2003). Essentially, in the case of Engaging Virtual Meetings, we consider John Chen's ENGAGE framework as an innovation, and the learning culture around the innovation is a community of practice, driving the evolution of that innovation.
The innovation requires both adoption and support toward an evolving product in order to remain relevant to stakeholders who adopt the framework and late adopters who require convincing that conducting engaging virtual meetings can be done. Thus, two lines of growth need to be developed and supported in the system: (1) A vertical system of knowledge generation and dissemination around the ENGAGE framework and (2) a horizontal system of marketing to grow impact of the innovation to the broader world of disengaged meetings.
A community of practice framework supports the vertical growth of a practice as a knowledge community, where the diffusion of innovations model places most of its attention on the phases of adoption of new products and ideas. Both models clearly define the top percent of individuals within the system that drive the majority of the functions. Within communities of practice, thought leaders tend to generate most of the knowledge around a practice and work to mentor others to climb to a position where they are comfortable driving the community. This is similar to diffusions of innovation where innovators and early adopters will produce opinion leaders to help drive the evolution of a product or idea.
The horizontal growth is largely held to the diffusion of innovation framework in that innovators and early adopters are leaned upon to drive the concept, but champions who are willing to throw themselves behind the innovation and publicly market the innovation to others. In our system, engagement champions are those with strong networks and are willing to share with their networks to help grow the community and impact of the ENGAGE framework. Both the community of practice and diffusion of innovations models are supported by the learning events and social networks within the academy, and the ability to share outwardly to other social networks to drive adoption.
Underlying these two frameworks are some clear hurdles to overcome. This is where gamification comes in. Both frameworks suffer from the possibility of homophily as members of the community, especially early adopters, provide and a low percentage of thought leaders generating knowledge, and such knowledge is rarely challenged by outside perspectives. For diffusion of innovation, there are also clear variables that determine the rate of adoption that need to be considered. The engagement economy designed for EVMA provides direct reward for members to grow into thought leaders and give back as mentors within the community. Additionally, the system rewards the horizontal growth or diffusion of the innovation to others. The system is very similar to YouTube's like, subscribe, and be notified in the sense that content creators are rewarded for the popularity of their content. Also, similar to flight miles, engagement coin gathered on the site can be used for registering for restricted content, discounting continued membership, or buying tools provided by Engaging Virtual Meetings and its partners.
Gamification is also about storytelling. The story for the site is that engagement spirits are directing you toward your goal. They are whimsical stick figures who are full of expression both positively and negatively. They help to illustrate an underlying narrative that flows with adoption decision making processes. Essentially, the decision to adopt an innovation is guided by variables that need to be overcome such as relative advantage, compatibility, complexity, trialability, and observability, while the process of accepting generally follows the stages of knowledge, persuasion, decision, implementation, and confirmation. The training developed for the academy takes this decision process as a narrative and guides or challenges members where appropriate.
Conclusions
We hope to deliver an evolving innovation through the academy. A product that is guided by its membership and clearly evolves through the sharing of successes, failures, and best practices. The main challenge will be in driving late adopters and laggards to the cause, but the very nature of this community lends itself to the horizontal growth as champions clearly demonstrate the effectiveness of the ENGAGE framework within a wide variety of contexts. We are excited at the beginning of the Engaging Virtual Meetings Academy and look forward to ideally making virtual meetings in general not suck.