Partnership with The Center for Accelerated Learning
Flying Cloud Solutions is proud to announce a partnership endeavor we are undertaking with the Center for Accelerated Learning. Over the coming months we are investigating updates to their existing products and services and plan to evolve the program to reach new audiences. What is Accelerated learning? I'm glad you asked!
Accelerated Learning
Accelerated Learning is a philosophy on the development and delivery of learning that is based on the way people Naturally learn, clearly distinguishing itself from the traditional industrialized education methodologies. This philosophy developed out of learning theories adopted early in this century and we are partnering to develop a new edition of this philosophy that updates the Accelerated Learning philosophy and approach with current empirical research on training. The goal being to provide an approach to education and training that speeds up design and production while emphasizing a positive learning environment, collaboration, multimodal engagement, and learning in context. Accelerated learning is the results achieved emphasizing lean and iterative methods with a goal of driving engagement and measurable results.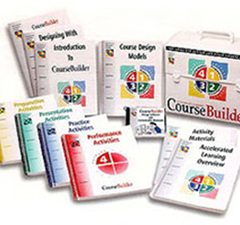 The philosophy of Accelerated Learning is reflected in several products that The Center for Accelerated Learning has made available: CourseBuilder and A.L. on Deck. CourseBuilder is a complete system for designing education and training focusing on 4Ps of training delivery: preparation, presentation, practice, and performance. In its current state, CourseBuilder is a box containing hundreds of activities, course design models, worksheets, templates, case studies, and other materials that help engage the design thinking practice around designing and developing courses. Flying Cloud Solutions and The Center for Accelerated Learning are working to update this box and materials and identifying a way forward to a revolutionary digital design platform bringing together the decades of work produced through Accelerated Learning.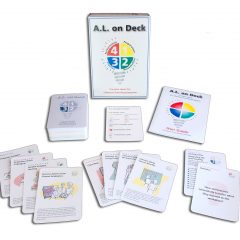 The other product of note is A.L. on Deck. This is a set of cards largely summarizing the CourseBuilder box. Having done a lot of market research and playing with similar decks of cards on the market, this deck is far and away richer and more robust than any other deck of design strategy cards I have encountered. Flying Cloud Solutions is looking to similarly assist in updating this card deck and wrapping the cards with a gamification system to further help with the design process.
Why a Partnership?
Flying Cloud Solutions believes in the products and services of the Center for Accelerated Learning but also sees that the current Accelerated Learning philosophy needs an update to contemporary understanding of theories of learning, new methods of delivery, and brain science. Where the Center for Accelerated Learning has decades of experience implementing this system and using these products with a broad portfolio of clients, Flying Cloud Solutions has the ability and knowledge to boost the system with new research, gamification, and an eye toward virtual training and education. Together we are testing the market to design products and services that meet current client needs and look to the future of what training and education can be.